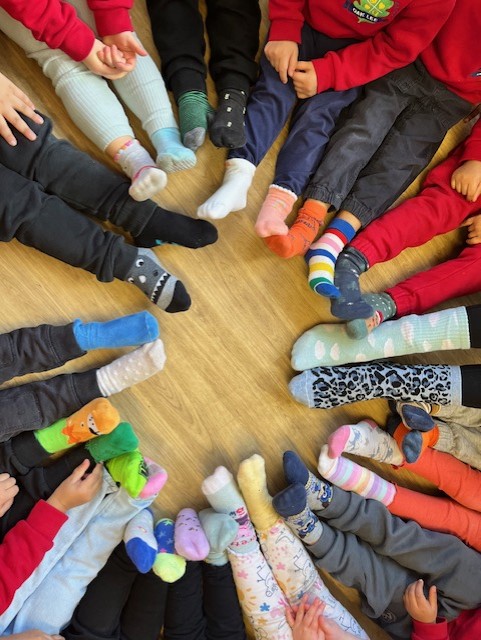 We are proud to support World Down Syndrome awareness throughout March.
We were very excited to get involved in the Down Syndrome UK's fun Sunflower Challenge, which is a lovely way to teach the children that we all grow and bloom in different ways and at our own pace. On March 1st the children each began planting their sunflower seeds at nursery and carefully looked after them before taking them home.
On Wednesday 22nd March in celebration of World Down Syndrome Day, we encouraged all of the children, teachers and their parents to wear their brightest, most fun mis-matched socks for the day! The odd socks campaign was conceived as the three strands of chromosome 21 just happen to look like socks! In support of Down Syndrome UK we wore our funkiest socks for the day to symbolise the uniqueness of every chromosome and that each one is valuable and one-of-a-kind! We had lots of fun!
During group times the children learnt a little bit about Down syndrome with their teachers, celebrating our differences and similarities and what makes each of us special. The children spoke about being patient, kind and caring to everyone, even if they may not look, sound or learn the same as us and to do our best to help each other. We explored some Makaton signs, using actions alongside words, which can help people communicate if they find saying words a little trickier.