Serves

10

Prep time (mins)

2

Cook time (mins)

5
Oat and Banana Pancakes
Ingredients
85 g Bananas
100g Oats
1 Egg
100ml Oat milk
1/2tsp Ground Cinnamon
Method
Place the ingredients in a food processor and mix thoroughly. You should have a fairly thick pancake batter.
Lightly oil a pan and place it on a medium heat.
Scoop a tablespoon of the mixture on to the hot pan and with the back of the spoon, spread the mixture in a circular motion.
Allow to cook until you see bubbles appear on the pancake. This should approximately 30 seconds.
Using a spatula or blunt knife, flip the pancake over and cook the other side for 30 seconds.
Place on a plate. Continue the process until you have used up all the mixture.
Nutritional Information per 100g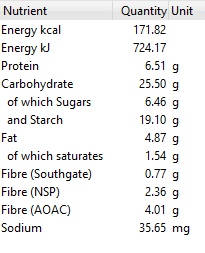 Cook's Tips
More recipes