Serves

10

Prep time (mins)

10

Cook time (mins)

20
Warm Potato Salad
Ingredients
550g Small new potatoes, or large potatoes cut into small pieces
100g Feta cheese, crumbled
(For the dressing)
50ml Olive oil
5ml Balsamic vinegar
3 Tbsp Mayonnaise
2 Tbsp Soya yoghurt
1 Tsp Honey
1 Tsp Dijon mustard
20g Fresh herbs, chopped finely (coriander, chives or parsley)
Method
Boil the potatoes until they are cooked, but not mushy. Drain the water and place the potatoes back into the pan.
While the potatoes are cooking, make the dressing and leave until needed.
For the dressing, place all ingredients in a bowl and whisk until combined.
Pour the dressing over the cooked, drained potatoes in the pan. Mix well and place the lid on to allow the dressing to infuse for a few minutes.
When you are ready to serve, add the crumbled Feta cheese.
Nutritional Information per 100g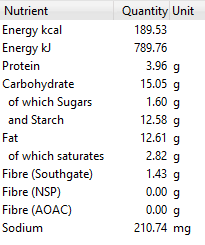 Cook's Tips
For babies under 1 years: omit the dressing and use yoghurt, olive oil and herbs.
More recipes