Serves

10

Prep time (mins)

20

Cook time (mins)

30
Thai Green Chicken Curry
Ingredients
For the Thai Green Curry Paste
2 Tbsp Olive oil
3 Spring onions, chopped
3 Garlic cloves, chopped
1 inch piece of fresh Ginger
1 small bunch of fresh Coriander
1 small bunch of fresh Basil
1 stick Lemongrass
1 Tsp ground Coriander
1 Tsp ground Cumin
1 Lime, juiced
2 Tbsp water
For the Curry
400ml Tin Coconut Milk
500g Chicken, diced
2 Tbsp Sunflower/Vegetable oil
200g assortment of fresh, chopped vegetables (e.g. mange tout, new potatoes, baby corn, mushrooms, broccoli, peppers)
Method
Place all the paste ingredients into a food processor and blend until it turns into a paste.
In a saucepan, fry the onions, garlic and ginger in the sunflower oil. Add the diced chicken and cook until browned.
Stir in the Thai green curry paste and cook slightly.
Add the mixed vegetables and Coconut milk. Stir and allow to simmer until the chicken and vegetables are cooked (approx. 25 minutes.)
Serve with boiled rice.
Nutritional Information per 100g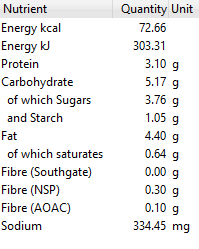 Cook's Tips
Prepare additional vegetables to make a puree for weaning diets.
For Vegetarian diets: omit chicken and use firm Tofu.
More recipes